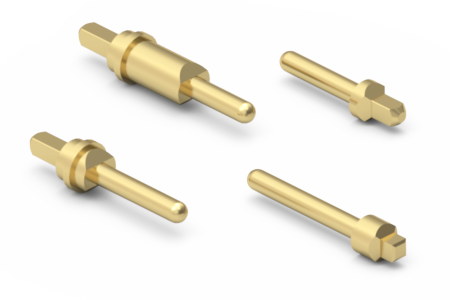 Mill-Max Manufacturing Corp., Inc. today announces four new pins specifically designed for press-fit into PCB plated-through holes, providing a secure connection while maintaining plated-through hole integrity and continuity. These new PCB pins incorporate square press-fit geometry and angled vent features making them suitable for solderless press-fit or press-fit and solder PCB termination. Learn more at www.mill-max.com
About Mill-Max
Mill-Max is the leading US manufacturer of machined interconnect components with a vertically integrated manufacturing facility headquartered at 190 Pine Hollow Rd., Oyster Bay, NY 11771. Its full product line includes spring-loaded connectors, SIP, DIP, PGA and BGA sockets, board-to-board interconnects and pin headers, surface mount and custom products, PCB pins and receptacles, solder terminals, wrapost receptacles and terminals. The company's complete manufacturing facility includes engineering, tooling, primary and secondary machining, stamping, plating, injection molding, and assembly.
About Control Sales, Inc.
Control Sales, Inc. is the premier electromechanical manufacturers' representative serving Northern Illinois, Wisconsin, Minnesota and Iowa. Since 1976, our expertise has been providing engineers with design-in solutions through product knowledge, collaboration, customization, and service.  Control Sales offers a comprehensive product line, including world-class brands such as ITT Cannon, Crydom, BEI Sensors, C&K, Mill-Max, Sharp, and TDK Lambda. Our mid to large sized OEM customers in industrial, aerospace, medical, and transportation markets rely on us to help solve design challenges. Control Sales is proud to work closely with leading distributor partners in our territory.