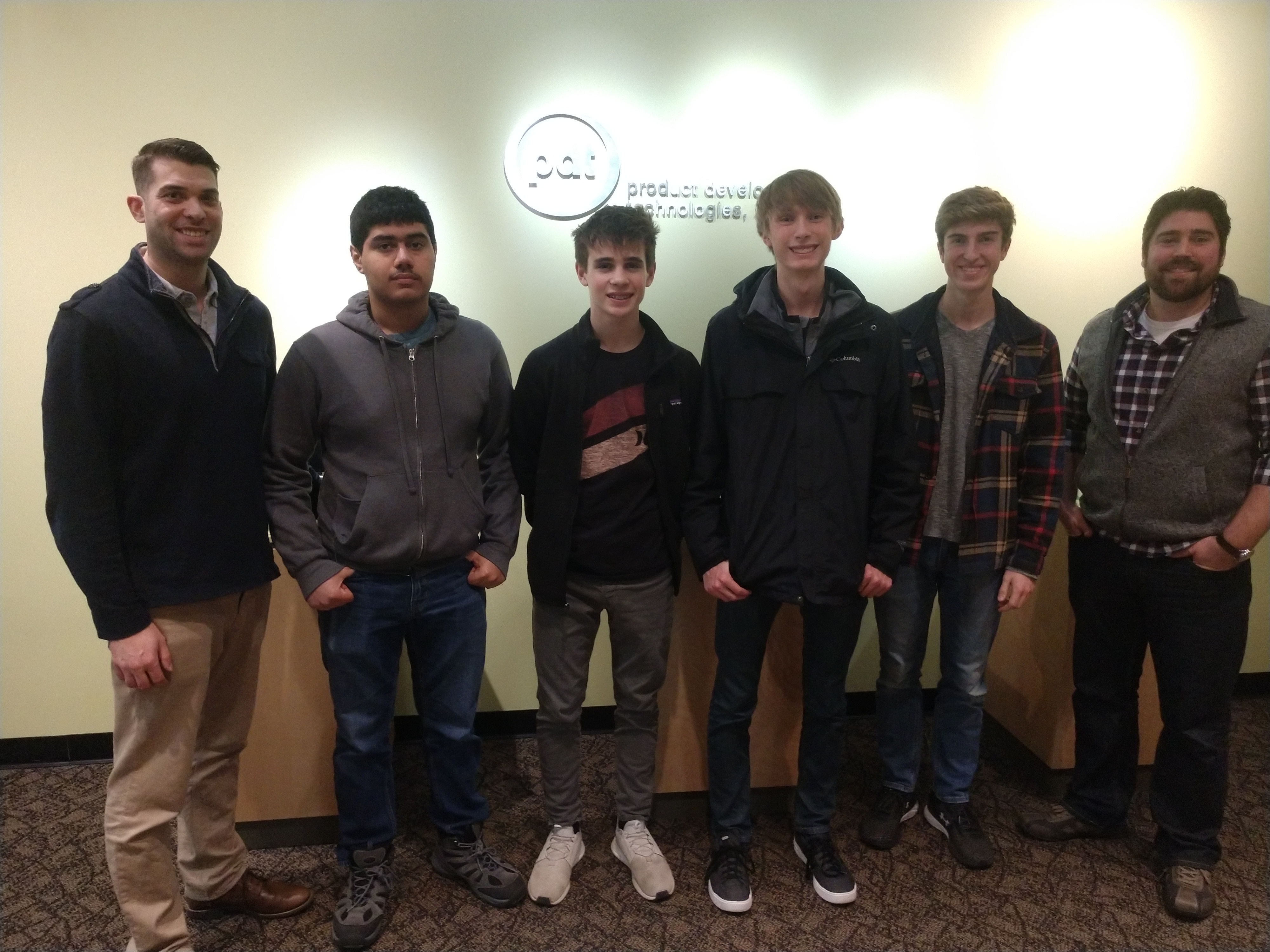 Barrington High School students were provided with a unique opportunity to see consumer and industrial product design and development processes thanks to the generosity of PDT, an Astronics Company, located in Lake Zurich, IL.  David Fay and John Morici personally guided the tour of PDT's state of the art design center, highlighting on-going projects in stages ranging from white board design flows to functional prototyping. In addition, the students were able to ask questions, tour the tooling shop and handle 3D printed prototypes.
PDT and Control Sales are proud to sponsor the students' robotics team "BHS Bronco Bots".
Kingsland Coombs, President of Control Sales, Inc., commented, "David Fay, John Morici and the people at PDT provided the students with an example of the highly creative, collaborative processes used by PDT in the design of new technology. The design center's atmosphere was particularly inspiring to the students who are looking for work environments that support and enhance innovation. On behalf of the students, thank you to David, John and PDT for taking time to mentor the next generation of engineers. The tour was an example of PDT's commitment to learning and Control Sales is extremely proud to work with PDT."
The BHS Bronco Bots Robotics Team participates in the FIRST Tech Challenge where more than 5,000 teams from around the world compete head to head on a special playing field with robots they have designed, built, and programmed. They must also raise funds, design a team "brand," hone teamwork skills, and perform community outreach. In addition to learning valuable STEM and life skills, participants are eligible to apply for $80 million in college scholarships.
PDT's unique development approach has propelled it into a firm spanning the globe with over 120 dedicated experts. Twice named to Inc. Magazine's Fastest Growing American Companies, their design and engineering teams are frequently recognized by distinguished industry awards including IDEA, ADEX, and the ID Forty.